Welcome to the official Fhrx Studios website; thank you for visiting. During your stay feel free to browse the entire website, not only taking in what's shiny and new but also what's ageing and ancient too. Our news articles often run in conjunction with other media outlets including magazines, forums and Facebook. This is because we regularly contribute to the aforesaid media outlets various reviews, tests and articles.
Listed below is the latest incar audio / visual industry news as of Monday 16th July, 2018. If you have anything to contribute or if you would like us to report on a particular event, product or happening, please feel free to simply shoot us through an email.
Latest Fhrx Studios Sales & Group Buys. - 16/07/18
As many of you already know Fhrx Studios operates within a lot of different forums. This lends itself to a constant stream of organised group buys and to that end it's time for the next batch. Ergo if you're in the market for some high quality audio products at a drastically reduced price; either shoot us an email or head over to our Facebook page to see what's on the chopping block this week.
Tutorial Updates Continue. - 10/07/18
Long term followers of ours will remember our numerous 'how to' tutorials that were liberally dotted throughout forums all over the place. With so many forum changes occurring hitherto we've recently taken to updating this page as some of the links have become outdated. The latest one to receive a refresh pertains to the Nissan Pulsar. To view this tutorial simply here. Alternatively; to view an entire list of the tutorials currently available click here.
Focal Releases New Integration Series. - 09/06/18
Whilst Focal's Integration series components have been going great guns hitherto, it's fair to say even the most astute range can always do with a light refresh. Which is exactly what Focal has done with this; the latest evolution of the stout yet modestly priced Integration series.
Fhrx Studios' Latest Photographic Frivolity. - 07/06/18
Yes ladies and gentlemen it's that time again. Time for yet another trip down visual silliness lane, fresh with the latest home grown images showcasing how we work behind the scenes. So without further ado head over to our Facebook page photo galleries to see what's been happening here recently.
FAQ Page Updated. - 29/05/18
Because we get asked literally hundreds of questions here each week we generally make it a rule of thumb that if we're asked the same question more than five times on any given day, it gets inserted onto the 'Frequently Asked Questions' page located within this website.
It has been updated again today with changes made to the article pertaining to human hearing. To view these this article plus many more covering an entire range of subjects; click here.
Pioneer's New AVIC Receivers. - 24/05/18
When talking receivers one phenomenon you'll find occurring annually amongst the Japanese behemoths is a trend whereby one inches ahead whilst the others play catch-up. Over the years we've bore witness to more leadership switches than that of a NASCAR event, and Pioneer certainly isn't doing its chances any harm with the new AVIC-Z910DAB and its sibling AVIC-Z710DAB. Soon to hit the Australian market; these world class units feature an absolutely stunning array of features.
Put simply the AVIC's combine extensive capabilities with spectacular performance, whilst leaving all the redundant aspects you don't need behind. However rather than us rabbiting on about what they can do; why not head over to Pioneer's website for a looksee. Alternatively you can also email us for more information.
New System Kits Available. - 21/05/18
Fhrx Studios has been developing audiovisual system kits for various cars for decades now, continuously evolving these kits as superior components are developed and released. Centreing upon the fiscal points of $3000, $6000 and $10000 these kits are designed to fully integrate with your vehicles OEM equipment. They're completely reversible upon sale of the car and overall serve to offer you a far superior entertainment experience. Kits vary depending on which particular vehicle you have and include some or all of the following components:
With significant advances being made continuously pertaining to both car and interface technologies, we incorporate said advances into our systems kits, resulting in them featuring the very latest equipment. The most recent kits to receive updates include:
Skoda Octavia
Audi A5
Subaru Forester
Holden Commodore
Lamborghini Murcielago
Mazda 3
Renault Megane
Subaru WRX
Volkswagen Golf
These are but a small selection of kits; there're literally hundreds to choose from. One important issue to be mindful of is that these kits often very specific components, therefore sadly not every single model from every single year can be covered. That said that most are, ergo it's best to shoot us an email to see what's available for your particular vehicle.
---
Helix Releases New M-Series Amplifier Range. - 18/05/18
With the highly successful new D-Series amplifiers going great guns German manufacturer Helix has now turned its attention to producing a range with a slightly smaller footprint. Called the M-Series; these new amplifiers share a similar position to aforementioned D-Series but are smaller. That said they're still most impressive little powerhouses, happily providing power aplenty in conjunction with a modest price tag.
Click on images to enlarge
Borrow numerous technologies and ideologies from ranges above; the new units are available in either a single or four channel configuration and word is there're more models on the horizon. For more information on the M-Four click here and for information regarding the M-One click here. Alternatively feel free to email us or visit the Helix website directly by clicking here.
---
Kenwood's Stunning New Flagship Receivers. - 17/05/18
When talking flagship receivers one intrinsically expects a sizable amount of fanfare, especially when coupled with a boisterous marketing campaign. Kenwood however prefers to play things a little differently. The commotion tends to be a tad more subdued, with the Japanese giant preferring to let its receivers do all the talking rather than a trumped up marketing campaign. See Kenwood has been developing high quality consumer products since 1946 and inherently possesses more technological acumen than most other companies will ever manage. This means that when Kenwood introduces new flagship receivers those in the know tend to sit up and take notice. Such was the case with the announcement of the stunning new DNX9180DABS navigator and DDX9180DABS non-navigator.
Click on images to enlarge
Although physically similar in frontal appearance to many within the Kenwood stable, in reality the part number is not the only thing gargantuan about these new receivers. Their ability lists are intimidating to say the least, with just the acronyms alone spanning literally pages. Metaphorically speaking the crafty designer has left no rock unturned, cramming an incredible amount of functionality and technology into the standard double DIN sized chassis. For more information visit the Kenwood website or feel free to email us.
---
Titanic Focal BAM XXXL Sound Deadening Group Buy - Don't Miss This One! - 01/05/18
We'll admit this one was completely unplanned. Basically someone just ordered a swag boxes therefore we thought we'd put the feelers out to see if anyone wanted to join in on the order? If you'd like to take part just head to our website here and put in the code BAMFB at the check out to receive the group buy discount.
Click on images to enlarge
Please note; the code will only remain valid for a limited time. We're aiming for over one hundred units this time around, meaning the one off price for each will be absolutely sensational!
Click on images to enlarge
If you'd like any additional information regarding the sale shoot us an email. For further details on the product itself simply pay a visit to the Focal website by clicking here.
---
Fhrx Studios' Online Store Updated With Specials Aplenty. - 01/05/18
Like clockwork we continuously endeavor to offer our customers the biggest range of genuine high quality products, not to mention throwing in savings aplenty. This not only pertains to brand new products but also various second hand, ex-demo and damaged but salvageable equipment - all with full new warranty.
You can reach our online store via a plethora of methods. Either click the menu button to the left or spot ad to the right, or else simply click here to head there directly.
---
Audiotec Fischer DSP PC-Tool Update. - 09/04/18
For those amongst us who enjoy tuning and tinkering a little more than we ought; the latest version of Audiotec Fischer's DSP PC-Tool is now available for download from its website. For those unaware the DSP PC-Tool is the software we use for tuning all Helix and Brax processors; not just the standalone DSP's but also all the various integrated amplifier DSP's too.
Click on images to enlarge
This new release is version 4.25, which features various improvements and upgrades upon previous versions. As per the professionalism of Audiotec Fischer; downloading is completely free of charge and can be sourced from the website by clicking here. Ensure you replace your current version, including uninstalling older ones. Feel free to shoot us an email for more information.
---
Helix Releases New D-Series Amplifier Range. - 06/04/18
Hot on the heels of the highly successful G-Series range of amplifiers German manufacturer Helix has now released a new entry level range, named D-series. Designed to dovetail just beneath the G-Series range these impressive new units provide award winning performance, power aplenty and a modest price tag, meaning anyone can now enjoy the world renown Helix sound.
Click on images to enlarge
Borrow numerous technologies and ideologies from ranges above; the new units are available in either a single or four channel configuration and word is there're more models on the horizon. For more information on the D-Four click here and for information regarding the D-One click here. Alternatively feel free to email us or visit the Helix website directly by clicking here.
---
New Morel And Stinger Equipment Has Arrived. - 24/03/18
For those waiting on the latest and greatest equipment from esteemed Israeli audio developer Morel; they've just arrived! Just as an aside though in a similar vein; the new batch of Stinger terminals, interconnects and cables has also arrived. For more information on the respective brands visit the manufacturers website by clicking here for Morel and here for Stinger. Alternatively; for more information pertaining to pricing feel free to email us.
---
Morel Releases New Components. - 25/01/18
Aside from performing the mandatory annual tidy up of its existing equipment stable, Israeli speaker genius Morel has also expanded various ranges; adding new components fresh for 2018. The two more significant components to keep an eye out for will be the three way Maximo Ultra 603 and the Virtus Nano Integra 602 coaxial variant.
Click on images to enlarge
If you're all but unawares as to who or what Morel is; the short version is that Meir Mordechai founded Morel in 1975, inspired by his love of music and motivated by a dream to create the perfect loudspeaker. His life-long quest has resulted in successive generations of speakers and audio drivers that consistently set new standards for superb sound quality. Read more about both the company itself and its extensive stable of components by visiting the Morel website here. Else feel free to shoot us an email for pricing and information.
---
German Maestro SWF 8012 – Slim Thinking. - 16/11/17
For those of you out there that're looking to change out your aging OEM subwoofer but are encountering the severe depth restrictions many modern cars suffer from these days; why not check out the stunning new German Maestro SWF 8012 subwoofer?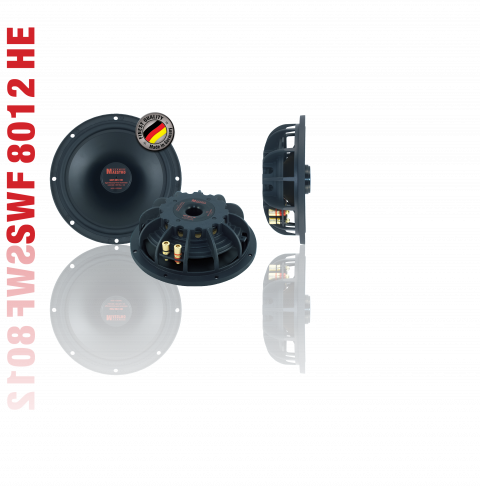 Click on images to enlarge
This blurb taken from the GM website: The cone-voice-coil system with maximized surface area along with the high-power neodymium magnet system not only impresses with high SPL, but also with extremely high control over the moving assembly - making this subwoofer a first choice product for sound quality as well. For more information either email us or click here to visit the official German Maestro website.
---
Brax / Helix / Match Rejuvenates Website. - 10/11/17
German behemoth Audiotec-Fischer, proud parent of Brax, Helix and Match components; uploaded its brand new website overnight. Newly refreshed; this stunning new online presentation looks exceptional, feels warm and fluffy and tastes terrific too! Featuring the entire stables of Brax, Helix and Match components; the new Audiotec-Fischer website is plentiful in the extreme, and chock full of information and product rundowns.
Click on images to enlarge
So if you're looking to become one of the literally millions of content customers of these incredible products why not head over to the new Audiotec-Fischer website for an eyeball? Alternatively feel free to email us for further information.
---
Tru-Technology Makes A Welcome Return To Australia! - 15/10/17
When talking high end brands that've taken somewhat of a hiatus recently, one that cannot remain unmentioned is American powerhouse Tru-Technology. Thankfully the powers that be have seen sense, and this superb brand is now back in Australian complete with the latest Tungsten range.
Click on images to enlarge
If a similar vintage to us then you'll remember the Tru-Technology glory days, when the mighty Billet and Hammer components dominated the competitions the country over. Well the brand has only matured with age, and to be blunt Tru-Technology is proud to celebrate over two decades of designing and engineering some of the best sounding mobile audio products in the world. For more information either visit the Tru-Technology website or simply email us direct.
---
German Maestro Release Mercedes Specific Speakers. - 21/09/17
Aptly named German Maestro has recently released a range of speakers specifically engineered to fit into various Mercedes-Benz models. These provide far superior sound whilst being an absolute breeze to install, and as per the norm they're manufactured within the GM factory utilising many build parts sourced from German vendors; thus conducive to a far superior build quality.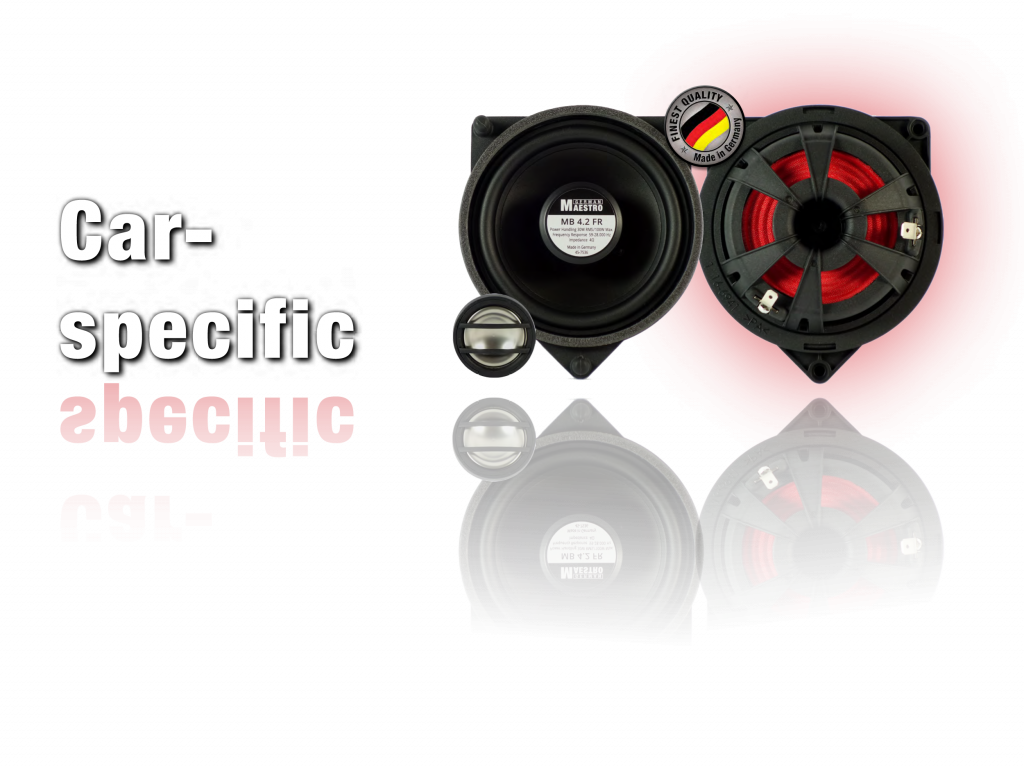 Click on images to enlarge
For more information including details pertaining to their construction, what particular Mercedes Benz models they're compatible with, plus all the orthodox technical information; click here. Alternatively feel free to shoot us an email for more information.
---
What guarantee do I have? Why come to Fhrx Studio's? - 20/09/17
Here at Fhrx Studio's we believe in two principles above all others - quality of workmanship and customer care. We take the nessessary time to complete installs neatly, safely and correctly. We're not a cheap company and will never been known as one. We utilise numerous proven methods in ensuring the customer gets exactly what they desire with no damage to their vehicle. For more information regarding this, click here.
---
Audison DRC MP Controller Now In Stock. - 26/08/17
For those who've been patiently awaiting the arrival of the DRC MP, the latest incarnation of the renown DRC remote control; they're now in stock and ready to ship. For pricing and technical information simply head over to our webstore by clicking here.
Click on images to enlarge
If you're looking for a little more generic information; this is from the Audison website: The new Audison DRC MP (Digital Remote Control Multimedia Play) is compatible with all the Audison electronics featuring AC Link bus. Its slim profile along with the holder supplied with it eases the installation in the best position inside the car. Thanks to the new Joystick, "Rubber Touch" finished for best control of the movements along the four direction axes, the "DRC Settings" menu can be adjusted and navigation is also possible through the "Navi Command" function if the system features an Audison bit Play HD with video output connected to a monitor. Various other technical documents and manuals, not to mention software updates; can also be found on Audison's website.
---
New JL Audio Ford Mustang Stealthbox®. - 06/08/17
American behemoth JL Audio has been producing its famous Stealthbox® designs for years hitherto, with the stable growing to encompass an astounding number of vehicles ranging from sports cars right through to family vans. Not surprisingly it's recently developed a Stealthbox® for the ever popular Ford Mustang.
Click on images to enlarge
For pricing and availability information please shoot us an email. For a full run down of technical specifications, including information pertaining to JL Audio's other Stealthbox® designs; pay a visit to the JL Audio website.
---
Rainbow Returns To Our Shores! - 18/05/17
What's in a name? Well if that name happens to be Rainbow then what's within is some of the most esteemed technical acumen in the known universe. Despite taking a brief break from the Australian car audio arena, it's now returned complete with a stunning new range of audio goodies to showcase!
Click on images to enlarge
Featuring everything from splits to subwoofers, low to ultra high end; German born Rainbow has a product to suit every application. For more information either visit the Rainbow website or else shoot us an email.
---
Fhrx Studios Commentary On Sydney SQ Society FaceBook Page. - 24/04/17
Confirming what's been long suspected; here's proof positive that the hearing abilities of the Fhrx Studios team are from another planet. To read the full commentary on the Sydney SQ Society FaceBook page see the first few links within our testimonies section.
---
The 'Not So Flash' Install Images Page Updated. - 22/03/17
Yes ladies and gentlemen; it's time for more random visual silliness, this time around showing exactly how not to do it! You know that saying "you can price match but you cannot install quality or experience match"? Well it's spot on - see cheap installs are exactly that and to that end a frightening proportion of our work here comes from fixing these types of installations. So click here to behold what you'll get for your cheap or free install.
---
Helix Component Speakers Now In Australia. - 14/01/17
We're proud to announce that various component speaker sets from high end German manufacturer Helix are now available in Australia. Exuding superb technological acumen; the Helix component speakers are a sure fire force to be reckoned with when aiming for high quality sound, but without infringing too much upon your bank account.
Click on images to enlarge
To read more about these impressive components either email us else simply head over to the Helix page within our store.
---
Presenting The New Brax Matrix Components! - 06/12/16
Just arrived here are Brax' latest masterpiece; the epic new Matrix series components. Featuring the ML1 tweeter, ML6P midrange and ML10 subwoofer; these components represent the absolute pinnacle of engineering excellence from this astute German manufacturer. Put succinctly the Matrix components are quite simply astounding in every day.
Click on images to enlarge
The offspring of one Audiotech Fischer; Brax represents the epitome of high end speaker and subwoofer design and manufacture. Or as the company so eloquently puts it: "Music is emotion. It is full of power and rhythm, purity and energy, tones and vibrations, joy and vitality. We make amplifiers and loudspeakers that truly express the magic and fascination of music - with love and passion, with precision and knowledge and the absolute ambition to create outstanding products for the pleasure of pure sound." For more information please click through the various links found here or simply shoot us an email.
---
Mighty Cerwin Vega Is Back! - 06/11/16
Things may've have been a little quiet on the American front of late, thanks by and large to many concentrating upon the endless litany of European brands streaming into Australia. Nonetheless despite taking said short stay of absence from the Australian car audio market the US behemoth Cerwin Vega is now back and larger than life!
Click on images to enlarge
If you're of a younger generation and aren't across all things Cerwin Vega; the company has a long and distinguished history. Well allow it to take up the spiel from here: For over 50 years, the name Cerwin-Vega has been synonymous with excellence in every area of the audio experience. This reputation has been established by Pro Audio professionals, Hi-Fi enthusiasts and Mobile Audio fans that recognize the high-performance value which is Cerwin Vega. Dedicated to the pursuit of achieving ultimate realism in the reproduction of the live performance in the home, Cerwin Vega's customer loyalty is second to none and has reached nearly cult-like status. As a result of this acceptance, Cerwin-Vega has grown from a small group of engineers headed by the legendary Gene Czerwinski into one of the foremost loudspeaker companies. For more information including the Australian range visit the Cerwin Vega website. Of course you can also just ask us directly via email too.
---
New issue of INCAR magazine hits the stands. - 05/10/16
The latest issue of INCAR magazine is hitting the newstands as we speak. This is one of many publications that Fhrx Studios contribute to each month. This issue sees Edgar, Marty and the rest of the gang converting their thoughts to print on everything from audio visual delights through to security systems.
Click on images to enlarge
Grab your copy now!
---
Vibe Makes A Return To Fhrx Studios. - 25/08/16
If you're a Eurozone dweller and're into your high end audio you'll do doubt have stumbled across highly acclaimed British audio company Vibe. Given its marketing campaigns coupled with its tremendous success within competition circles it's hard not to. Long term customers of ours will recall we were quite heavily involved with Vibe during the nineties, but due to some circumstances beyond our control the brand took a little hiatus. Moving along though; for today we're excited to announce that it's back with us!
Click on images to enlarge
Vibe was founded in 1993 and has remained committed to designing and manufacturing some of the world's most innovative audio equipment. For more information including a complete history of the company visit the Vibe website or simply shoot us an email.
---
Many Full Retail Pricelists Updated. - 03/12/17
A plethora of latest full retail pricelists have now been uploaded to the products page, the one of most interest is likely to be Focal but there're others too. Changes to the lists include the removal of some items, the addition of others and price revisions all round. For these and various other pricelists, click here. Or feel free to email us.
---
Personalising Your Install. - 03/12/17
So you've just installed all your new audio gear only to discover that whilst your system sounds wonderful, you cannot help but notice it looks just like everyone else's. Now you're faced with an interesting choice; you could spend another five thousand odd dollars glassing, painting and chrome plating everything in sight. However one of the more professional and effective finishing methods is via the employment of our CNC mill to engrave or cut out various shapes, logos, trim panels and other decorative pieces.
Click on images to enlarge
These simple and unique touches individualise your installation, highlight various elements and are a far cheaper alternative to the aforementioned financial black holes. The most common items we're asked to manufacture are metallic battery clamps and text plates however the reality is that if you can draw it, we can machine it. For more information and a bucket load of exmaple images, click here
---
Zenec Announces New E>Go Receiver. - 26/07/16
Zenec, producers of arguably the world's finest integration style receives; has just released a new variant to suit Mercedes Benz.
Click on images to enlarge
Based on the new C10 platform of the Z-N626, the new Z-E4626 boasts some unique features which make it the ideal solution for Motorhomes. Click here for a list of just some the highlights of this new device or simply shoot us an email.
Top of Page