Call Us: 0417 686 671
Welcome to the official Fhrx Studios website; thank you for visiting. During your stay feel free to browse the entire website, not only taking in what's shiny and new but also what's ageing and ancient too. Our news articles often run in conjunction with other media outlets including magazines, forums and Facebook. This is because we regularly contribute to the aforesaid media outlets various reviews, tests and articles.
Listed below is the latest incar audio / visual industry news as of Monday 23rd October, 2023. If you have anything to contribute or if you would like us to report on a particular event, product or happening, please feel free to simply shoot us through an email.
---
Latest Fhrx Studios Sales & Group Buys. - 23/10/23
As many of you already know Fhrx Studios operates within a lot of different forums, websites and social circles. This is conducive to a constant stream of organised group buys. Ergo if you're in the market for some high quality audio products at often drastically reduced prices; either shoot us an email or head over to our Facebook page to see what's on the chopping block this week.
---
Zapco's Latest Processed Amplifier. - 19/08/23
It's been some years now since American voltage bigwig Zapco developed its first processed amplifier. However due to OEM audio systems growing more and more complex hitherto, the prerequisite for more channels has become somewhat of a necessity. Hence the latest Zapco leviathan is its largest yet; the impressive new twelve channel ADSP-Z16 IV-12A!
Click on images to enlarge
Finished in a delectable blend of powder coated black, machined bronze and excessive part numbers; the new ADSP-Z16 IV-12A is not only a twelve channel power amplifier with exceptional ancillary specifications; it also has inbuilt a sixteen channel processing suite that's beyond impressive. To read more about this specific unit click here. There're also various other models within the ADSP-IV range; to eyeball them click here. Naturally they're also on our webstore.
---
Focal's New Limited Edition Component Set. - 15/08/23
Between creating aural magnificence on a daily basis French wunderkind Focal haphazardly creates limited edition speaker sets too, catering for those amongst us looking for that little something extra for our special vehicle. Now if you're one of those aforementioned and're lucky enough to own one of these Deutsche classics then strap yourself in; as Focal has one heck of a treat in store for you! Crafted in Focal's workshop to meticulous standards; the superb new P60 component set is a high fidelity plug'n'play number designed to install directly into the Porsche 911 (992), Panamera (971 / 2017 - up), Cayenne (PO536 / 2018 - up) and Taycan (2020 - up).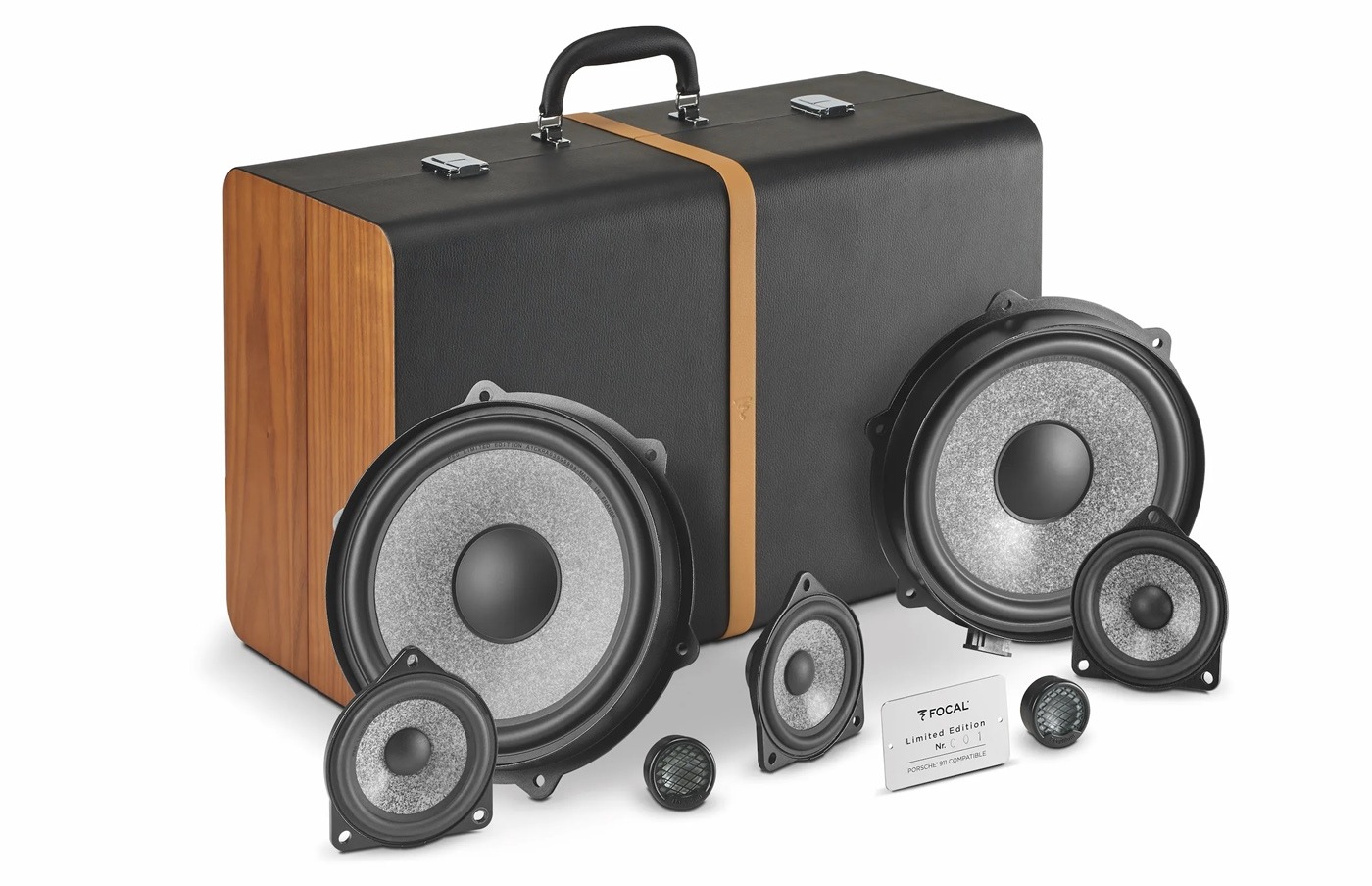 Click on images to enlarge
Comprised of seven drivers; the two 8" midbasses and three 4" midranges feature Focal's famous 'W' composite sandwich cone, whilst the two 1" tweeters feature beryllium inverted domes. These exclusive technologies guarantee an unparalleled level of detail, uncoloured sound, powerful and dynamic bass as well as an even larger soundstage; all easy to install in your vehicle's original front and central speaker locations without ado. For more information, images and specifications head over to the Focal's website for a looksee. You're also welcome to send us an email for further information and pricing. Don't procrastinate though, for the entire production run is limited to 911 units worldwide, only a handful of which have found their way to Australia.
---
Zapco's New Bungalow Sized Powerhouse! - 30/08/21
Throwing concern into the wind and bucking that all too familiar smaller is better trend seen these days, US audio colossus Zapco has taken its already impressive Z-1100.1 AP monoblock and expanded upon it with this latest monster; the Z-2000.1 AP! When it comes to amplifiers its often a case of quality being in one direction and power another. However with the Z-AP range Zapco has successfully blended the two ideologies superbly, thus forming a stable of amplifiers boasting not only incredible ancillary specifications but also gargantuan amounts of power.
Click on images to enlarge
To read more about Zapco's new Z-2000.1 AP power amplifier and to view it's technical specifications simply click here. Alternatively you can send us an email for further information, or visit our webstore for pricing and availability.
---
New Toys - Focal K2 Power M Component Speakers And Subwoofers! - 29/07/23
Adding more golden goodness to it's already impressive stable, no pun intended; are the new K2 Power M range of components from masterful French designer Focal. Blending the glorious sound of the Utopia M range together with the thunderous kick of the K2 Power range; this audacious new adventure will set a lofty new standard pertaining to the performance versus dimensions conundrum. Put succinctly their output is massive, whereas their dimensions are not.

Click on images to enlarge
The new range comprises a 1.25" 'M' profile aluminium / magnesium tweeter and both 3.125" and 6.5" 'W' sandwich fibre midrange drivers. Not to be left wanting insofar as subbass in concerned; the range also sees the return of Focal's infamous 5.75" subwoofer! For those of you who remember the mighty Utopia 13WS subwoofer; rest assured both materials and technologies have evolved considerably since their cessation. To read more about the new K2 Power M range, its history or its technology simply click here. You're most welcome to email us for any additional information you might require and last but not least, all components from this range are now available within our webstore.
---
Latest European Stock Arrivals! - 22/07/23
It's been a hot minute but the latest batch of goodies from Europe and its surrounds has just lobbed! Included in this haul is everything from Helix P and Audison Forza series amplifiers right through to ESB 8000 and Morel Elate Carbon series component sets. There's subwoofers aplenty, and even some brand new goodies too! One shining example being Helix's new Compose Ci7 range of integrated components!
Click on images to enlarge
As per the norm with boutique brands like this numbers are limited, so don't procrastinate people! To eyeball products aplenty visit our webstore, or feel free to email us for more information.
---
The Inaugural Shipment Of P SIX DSP ULTIMATE Amplifier Has Arrived! - 19/07/23
The first of the mighty P SIX DSP ULITMATE processed amplifiers are soon to be amongst us, and we for one cannot wait! This six channel powerhouse is a veritable force to be reckoned with, one that is already gaining acclaim everywhere not to mention reaping awards aplenty hitherto. To peruse its technical specifications and read about it's abilities and features click here.
Click on images to enlarge
Sadly the not so flash news is that numbers of these units is extremely limited, barely cracking double figures; so enormous is the demand for them worldwide. Ergo at the risk of sounding like dodgy telemarketer; if you're in the market for one please don't procrastinate but rather head over to our webstore here to secure one. If you require further information you're always welcome to email us with any enquiries you may have.
---
Focal's Newest Adventure! - 13/06/23
French audio maestro Focal is renowned for satisfying demand, even those a little more challenging. See many enjoy the wonderfully smooth and delightful tonality of the Utopia M range; arguable some of the best sound quality speakers on the planet. Then there're some who prefer the K2 Power range; still awesome sounding speakers but unashamedly the head-kickers of Focal's stable. However what's the solution when you want to blend the glorious sound of the Utopia M range but also want the serious kinetic sting in the tail offering by the K2 Power range? Allow us to introduce the new K2 Power M range; Focal's delectable amalgamation of said two ranges.
Click on images to enlarge
The new K2 Power M components offer superbly accurate musical reproduction in conjunction with kinetic output aplenty. This comes courtesy of a superior suspension system, meticulous diaphragm design and robust motor structure. To read more about the new range, its history and its technology click here. You're also most welcome to email us for more information too. These components are due to hit our shores in about a fortnight.
---
Latest ZeroFlex Stock Arrives! - 22/05/23
It's been a minute since the previous batch of ZeroFlex goodies hit our shelves, conducive to a bare patch or two appearing in recent times; so popular is the equipment from this tenacious New Zealand powerhouse. Thankfully said conundrum has been allayed thanks to new stock arriving yesterday!
Click on images to enlarge
Everything from the brand new TREX12 subwoofers through to the crowd favourites such as the titanic EVO6.5XL. Whilst this is all new stock, numbers are still somewhat limited; ergo don't procrastinate people! To check out the range from this superb designer visit our webstore here. Alternatively shoot us through an email for any further information you may require.
---
Our Photo Galleries Receive A Refresh. - 05/05/23
Over the decades Fhrx Studios has garnered quite the reputation for our innumerable photos, for we've always preferred the show people rather than tell them approach when talking the many facets of audio visual installation. This ideology, coupled with Marty's OCD; was conducive to the website having nearly eleven thousand photos on it. No that's not a misprint.
Click on images to enlarge
Hence after sessions aplenty recently burning the midnight oil, we've tidied everything up, culled a few thousand of the inferior quality ones and streamlined the entire presentation. So when time permits grab yourself a beverage and a chair and start digging through our revised photo galleries. Alternatively you can email us for further information not found on the website.
---
Stinger Release More HEIGH10 Compatible Installation Kits. - 21/03/23
Interface maestro Stinger, with its ever-expanding dash kit and interface stable; has released a new batch of kits designed to interface between your vehicle and its acclaimed HEIGH10 receiver. One in particular that we'd like to bring to your attention is that to suit the Jeep Wrangler. From the Stinger Australia website; RadioPRO advanced fully integrated Jeep kit for Stinger's HEIGH10 infotainment system. The SR-JW11H enables you to replace a Jeep Wrangler JK Facelift models with a show-stopping HEIGH10 multimedia display, while retaining all factory features and adding even more upgraded features including Apple CarPlay, Android Auto and more to your Jeep stereo system!
Click on images to enlarge
Stinger interface kits are meticulously crafted and include high quality electrical components to successfully interface with your car's delicate electronic systems safely and without ado. If you'd like more information visit the Stinger website. Alternatively you can email us for further information not found on the website.
---
Focal Releases Integration Range To Suit Mercedes Vehicles. - 08/02/23
The success Focal has enjoyed with its integration range hitherto is far from secret, however if brutally honest one would have to admit the French designer has been a tad slow out of the blocks with some variants, especially concerning the left-hand drive / right-hand drive dilemma. One in particular we've been patiently waiting for are those to suit the right-hand drive Mercedes Benz.
Click on images to enlarge
We're happy to announce that the full range of integration speakers to suit the right-hand drive Mercedes Benz are now in stock. For more information and pictures please visit the Focal website. Alternatively you can email us for further information not found on the website. If you're interested in purchasing a set for your German pride and joy why not pay a visit to our webstore.
---
Aerpro Releases New Dash Interface Kits. - 16/01/23
You'll be shocked to read that Aerpro has developed more dash kits! Just kidding; for this interface maestro is constantly expanding it's considerable dash kit and interface stable. However we thought we'd bring a particular selection to your attention because many people have been eagerly awaiting their release; the Series II VE Commodore.
Click on images to enlarge
Other dash kits also arriving include those designed to interface with the Ford FG Falcon, Ford Ranger, Holden Cruze, Toyota BRZ plus a whole plethora more. These kits are available in various configurations and finishes depending on what colour your dash is, are meticulously crafted and include high quality electrical components in order to successfully interface with your car's delicate electronic systems safely and without ado. If you'd like more information simply click here else feel free to send us an email for said information as well as pricing.
---
The New Helix Monoblock - The Monster Evolves! - 22/12/22
Far from breaking news amongst audiophiles; Helix's extravagantly named P series of amplifiers are arguably the best in the world. Whether you're talking basic power blocks right through to complete processed amplifier topologies; P series amplifiers deliver an award-winning combination of titanic power with ancillary specifications that'll often send the competition into a spin. It's a range that has netted accolade after accolade for the tenacious German designer, and the latest amplifier in the P series stable to receive a revamp is the one channel unit.
Click on images to enlarge
Without further ado then; allow us to introduce the new P ONE MK2. If you're one not overly concerned with techno babble then you'll be happy to know it boasts between 500 and 1500 watts continuous, depending on load impedance. However if you are across all things specifications and appreciate just how conducive they are to beautifully articulated subbass; how does a distortion of less than 0.01% coupled with a damping factor of over 450 sound? Nothing short of sensational will be the answer. The P ONE MK2 will be arriving in Australia any tick of the clock now, however in the meantime if you'd like more information please either click here else feel free to shoot us an email.
---
Aerpro Releases Ford FG Dash Interface Kits. - 22/12/22
For the many patiently awaiting a dash-kit solution for the Ford FG Falcon; the waiting is done. There're two new kits, available in either piano black or satin black depending on your factory dash colour. These kits are designed with high quality electrical components, thus allowing them to safely interface with the car's delicate electronic components.
Click on images to enlarge
If you'd like more information about these new dash kits please click here. Else for any other details you might need, whether it pertain to these or any other Aerpro product; please send us an email.
---
ZeroFlex Updates Its Subwoofer Stable. - 13/12/22
Though it's only been a few years since New Zealand born ZeroFlex emerged, during its tenue this company has demolished milestone after milestone with its blend of affordable yet earth shaking subwoofers. Not one to sit on its laurels however, this tenacious designer has now updated its impressive subwoofer stable; offering various new and improved designs.
Click on images to enlarge
So whether you're simply looking for a solid foundation for your music, through to shaking the very foundations of your manse; why not check out the new range by clicking here. You can also email us for more information, images and specifications. Whereas if you'd like to purchase one of these superb products please pay a visit to our webstore.
---
Kenwood's Superb New Mechless Receiver. - 12/12/22
When talking high-end receivers one expects a sizable amount of fanfare, usually coupled with a boisterous marketing campaign. Kenwood however prefers to take a slightly more subdued route, letting it's products do the talking instead. See Kenwood has been developing high quality consumer products since 1946 and thus inherently possesses more technological acumen than most. Ergo when it introduces new receiver those in the know tend to sit up and take notice. Such was the case with the announcement of the stunning new DMZ9021S mechless receiver.
Click on images to enlarge
Although physically similar in frontal appearance to many within this genre, in actuality the unit is vastly superior. It boasts an ability list which is intimidating to say the least, with just the acronyms alone spanning literally pages. Metaphorically speaking this crafty designer has left no rock unturned, cramming an incredible amount of functionality and technology into a shallow double DIN chassis. For more information visit the Kenwood website or feel free to email us.
---
Morel Joins The Sound Deadening Aggregation. - 10/10/22
The team at Morel are fanatical about getting the absolute best performance from its speakers. Now of course the very act of upgrading your OEM speakers to the award-winning Morel drivers is a splendid start on your journey to aural bliss. However the other crucial aspect of attaining superb sound is ensuring your listening environment is free from noise, artefacts, vibration and resonances. This will allow your speakers to perform at their absolute best.
As a masterful speaker designer well-mindful of this phenomenon, Morel developed ACUDAMP; a range of premium acoustic materials engineered specifically to reduce interior resonances, isolate and dampen noise and significantly improve the overall acoustic properties of your in-vehicle environment.
Click on images to enlarge
Simply applying ACUDAMP materials to the key areas within your vehicle will result in significant enhancement of its aural performance whilst reducing distortion and external noise, thus ensuring optimal performance from your sound system. The ACUDAMP stable contains four primary products.vehicle wraps First up there're deadeners measuring 2.1mm and 2.7mm in thickness. There's also a combined 4.5mm deadening / foam number and lastly there is a full sealing and diffusion kit. For more technical information pay a visit to the Morel Australia website. If you have further questions you can always shoot us an email and they're also now listed within our webstore.
---
New System Kits Available. - 10/10/22
Fhrx Studios has been developing audiovisual system kits for various cars for decades now, continuously evolving these kits as superior components are developed and released. Centering upon various fiscal points, these kits are designed to fully integrate with your vehicles OEM equipment. They're completely reversible upon sale of the car and overall serve to offer you a far superior entertainment experience during your tenure with the vehicle. Kits vary depending on which particular vehicle you have and include some or all of the following components:
Receivers including navigation, DAB, iPod, USB and Bluetooth.
Digital sound processors.
Reverse cameras
Component speakers.
Sound deadening.
Amplifiers.
Subwoofers.
With significant advances being made continuously pertaining to both car and interface technologies, we incorporate said advances into our systems kits, resulting in them featuring the very latest equipment. The most recent kits to receive updates include:
Audi Q3
BMW 3 Series
Lamborghini Aventador
Mazda CX5
RAM 1500
Renault Megane
Skoda Octavia
Subaru BRZ
Subaru WRX
Volkswagen Golf Mk VI
Volkswagen Golf Mk VII
These are but a small selection of kits; as there're literally hundreds to choose from. One important issue to be mindful of is that these kits often very specific components, therefore sadly not every single model from every single year can be covered. That said though, most are; therefore shoot us an email to see what's available for your particular vehicle.
---
What guarantee do I have? Why come to Fhrx Studio's? - 10/10/22
Here at Fhrx Studio's we believe in two principles above all others; absolute quality of workmanship and customer care. We take the time necessary to complete installs neatly, safely and correctly. We're not a fast or cheap company and will never been known as one. We utilise proven methods aplenty to ensure our customers get exactly what they desire, all with zero damage to their vehicle. For more information regarding this, click here.
---
Fhrx Studios' Testimonies. - 10/10/22
Confirming a long standing and well known suspicion; here's proof positive that the installation capabilities and hearing attributes of the Fhrx Studios team are beyond reproach. To read a full commentary on the Sydney SQ Society FaceBook page, plus view many others recorded over the years hitherto; head over to the testimonies section of our website.
---
Personalising Your Install. - 10/10/22
So you've just installed all your new audio gear only to discover that whilst your system sounds wonderful, you cannot help but notice it looks just like everyone else's. Now you're faced with an interesting choice; you could spend another five thousand odd dollars glassing, painting and chrome plating everything in sight. However one of the more professional and effective finishing methods is via the employment of our CNC mill to engrave or cut out various shapes, logos, trim panels and other decorative pieces.
Click on images to enlarge
These simple and unique touches individualise your installation, highlight various elements and are a far cheaper alternative to the aforementioned financial black holes. The most common items we're asked to manufacture are metallic battery clamps and text plates however the reality is that if you can draw it, we can machine it. For more information and a bucket load of visual examples click here
---
Hertz Expands The Mille Stable With Shallow Numbers! - 10/09/22
It's common knowledge you can't have a shallow subwoofer that sounds good right? Wrong, very wrong. For the new Mille MPS shallow subwoofer range from Italian audio maestro Hertz has been meticulously developed to change that perspective, providing exceptional performance whilst dealing with the lack of real estate found in many a modern car. The new range features a robust motor design which incorporates a six layer copper voice coil and powerful high-density flux ferrite magnetic structure. This is supported by an advanced suspension array and highly efficient cooling system; these elements working in harmony to provide not only superb accuracy but also twenty percent more excursion.
Click on images to enlarge
Diametrically speaking the line-up includes both 250mm / 10" and 300mm / 12" subwoofers, available with either single 2Ω or single 4Ω voice coil configuration. They're optimized to work in ultra-compact sealed boxes right down to only 14l / 0.49cf for the 10" and 20l / 0.7cf for the 12". This means that minimalist areas like behind the seat in utilities are no longer off limits when you're searching for ample volume required to produce that beautifully deep and articulate subbass. For pricing and availability information either shoot us an email else pay a visit to our webstore. To read the entire store behind this stunning new range pay a visit to the Hertz website.
---
FAQ Page Updated. - 04/09/22
Because we get asked literally hundreds of questions here each week we generally make it a rule of thumb that if we're asked the same question more than five times on any given day, it gets inserted onto the 'Frequently Asked Questions' page located within this website.
It has been updated again today with changes made to the article named 'What's the best system I can get for XXXX dollars?'. To view these this and many more articles, covering an wide range of subject topics; please click here.
---
Morel Releases Integration Range To Suit BMW Vehicles. - 03/09/22
Whispers of Morel developing integration speakers have been circulating ubiquitously of late, though realistically this shouldn't come as any great surprise given the rapidly growing popularity of the genre versus the prowess and ingenuity of Morel. Truth be told speaker prodigy Morel has projects aplenty in the pipeline insofar as integration speakers are concerned, with the first to drop being those designed for BMW vehicles.
Click on images to enlarge
Presently there're two BMW integration ranges. The first is named Performance and represents a value for money factory upgrade offering superb sound quality in addition to kinetic force aplenty. The second range, aptly named Reference; is simply Morel just being Morel. See this company has quite the penchant for taking speaker engineering to the enth degree, developing speakers which completely redefine benchmarks. Put succinctly the Reference range are arguably the best integration speakers in the world today, and though it'll only take a single audition to reveal why; surprisingly the price tag is still quite manageable. For more information on the two ranges visit the Morel website, else feel free to email us for further information, pricing and availability. Likewise, if you're interested in purchasing a set for your German pride and joy why not pay a visit to our webstore.
---
New Toys - BLAM Signature Multix Component Sets! - 02/08/22
Yes, the company is called BLAM. No, it's not satire lost in translation. BLAM is acronymic for Bonneville Laboratory And More, aptly named after it's founder and president Guy Bonneville. More about the company later though, for now we'd like to draw your attention to these stunning pair of component sets. The Signature Multix are the flagship range from BLAM, representing the epitome of design technology and materialistic evolution. However rather than bombard you with a titanic post let's get to some piccies! You can always read the full backstories of both BLAM and its Signature Multix range when time permits.
Click on images to enlarge
We currently have both the S165M2 two-way and S165M3 three-way component sets in stock and have already started upgrading one of our cars to showcase the S165M3 in all their aural glory. If you have further questions please shoot us an email. They're also featured within our webstore and for photos aplenty visit this FaceBook post.
---
The Evolution Of Awesome - Helix Releases The DSP PRO MK3! - 16/07/22
When it comes to high resolution sound processing Helix is a name synonymous with the best of the best, for the company boasts an impressive stable of processers featuring technical acumen aplenty. Whilst there're real behemoths available, the staple amongst them has always been the dependable DSP PRO platform. As if the original DSP PRO wasn't sufficient, Helix improved upon it via the updated DSP PRO MK2; a processor that all but left the competition in its wake. That was a few years ago and when talking electronics my do we know just how much can change over a short period. Luckily Helix also knows this, hence rather than resting on its laurels the veritable genii locked deep in the laboratory started work on evolving said processor into what you see here - the new DSP PRO MK3!
Click on images to enlarge
This latest design is proof positive that you can improve upon perfection if tenacious enough, and though the elegant exterior may resemble previous models; internally it couldn't be more contrary. Representing the next evolutionary stage of this mighty platform the DSP PRO MK3 is equipped with the latest technology designed to interface with modern vehicles offering unrivalled performance, features and abilities well above and beyond anything else on the market today.
However rather than run you through the abundance of capabilities here we'll instead direct you to the Helix website, lest this post blow out to biblical proportions. If you require more information please shoot us an email and you're interested in pricing or perhaps purchasing one; they're on our webstore.
---
Audiotec Fischer DSP PC-Tool Update. - 24/06/22
For those amongst us who enjoy tuning and tinkering a little more than we ought; the latest version of Audiotec Fischer's DSP PC-Tool is now available for download from its website. For those unaware the DSP PC-Tool is the software used for tuning all Brax, Helix and Match processors; not just the standalone DSP's but also all the various integrated amplifier DSP's too.
Click on images to enlarge
This latest release is the version 5.00.04 platform. Featuring new inclusions and vast upgrades upon previous functionality, this user friendly software affords you all the tools required to achieve in-car aural perfection. As is the professionalism of Audiotec Fischer; downloading the software is completely free of charge and can be sourced from the website by clicking here. Feel free to shoot us an email for more information.
---
Fhrx Studios' Latest Photographic Frivolity. - 12/06/22
Yes ladies and gentlemen it's that time again. Time for yet another trip down visual silliness lane, fresh with the latest home grown images showcasing how we work behind the scenes. So without further ado head over to our Facebook page photo galleries to see what's been happening here recently.
---
ESB Section Of Our Webstore Updated. - 08/06/22
We've recently updated the ESB section of our webstore to reflect the latest developments from this astute speaker designer, including the newly arrived 3000 series. Simply click here to browse the entire stable. If you require further information not found upon the website, or assistance designing your system; please shoot us an email.
Click on images to enlarge
If you're unaware of the impressive legacy ESB encapsulates; this Italian company was founded way back in 1969 and since then has been responsible for some of the best sounding, not to mention dead sexiest automotive components available. Put simply; ESB has forgotten more about quality speaker design than many companies will ever know. For further information, ranging from the company history through to the full technical specifications of every driver; pay a visit to the official ESB website by clicking here.
---
Eton Makes A Welcome Return To Fhrx Studios. - 04/06/22
Step aside Covid; it's time for some positive news! For German audio savant Eton has made a welcome return to our shores, and therefore our doors! Featuring some of the best speakers Europe has to offer, the Eton stable incorporates everything from component sets and coaxial speakers right through to subwoofers and active enclosures.
Click on images to enlarge
For more details on the company itself or to view Eton's range in its entirity be sure to click here. Eton products can also be found within our webstore too. If you require further information not found within the aforementioned websites please email us.
---
Helix Expands It's Loaded Enclosure Stable. - 20/05/22
You'll recall German audio manufacturer Helix launched its next generation K 10E.2 loaded enclosure last year, enjoying tremendous success with them hitherto. Whilst the K 10E.2 offered a delectable combination of copious output, low-end extension and modest asking price; it was however a full size enclosure. With this aspect squarely in its sights, Helix has now developed a slimmer counterpart named the K 10SE.2 loaded enclosure which shares similar impressive aural characteristics but sporting a far lower profile.
Click on images to enlarge
These new K 10SE.2 enclosures have been ordered from Helix in Germany and will soon commence their journey to our shores. If perchance you'd like to pre-order one from the initial batch simply email us else head to our webstore here.
---
Focal Introduces A New Speaker Range. - 01/05/22
When it comes to working with bothersome, wonderous or just plain weird materials most companies simply up and run for the hills. Not French speaker magician Focal though. This tenacious company has garnered quite some reputation for working with just about anything if it's conducive to positive results. In the past we've seen Focal engineers master various polys, beryllium, flax and numerous other challenging materials. It's latest range, aptly named Slatefiber due to its appearance; has just arrived at our shores and already the feedback is most complimentary.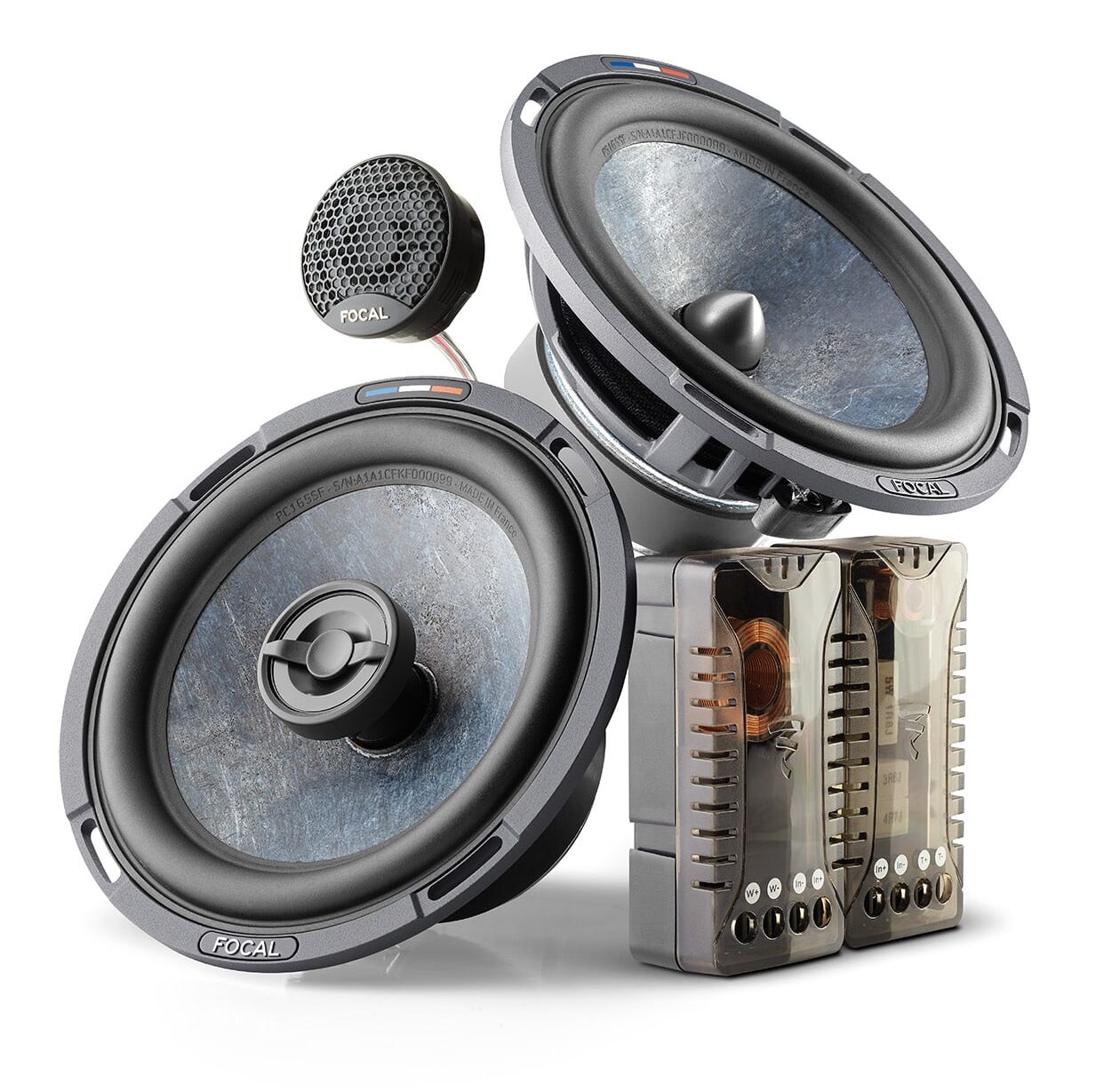 Click on images to enlarge
Still in it's infancy; the Slatefiber range currently features a 6.5" component set and 6.5" coaxial set. However more products are indubitably in the pipeline. To read more about the Focal Slatefiber range click here. You can also find them listed within our webstore else feel free to email us for any technical information you may require.
---
Rainbow Updates Its Website. - 30/03/22
Supreme audio architect Rainbow has finally updated its somewhat austere website, giving it a fresh new look and feel after what can only be described as years of grizzling worldwide as we all fumbled our way through the clunky old one.

Click on images to enlarge
The new website not only bids farewell to some aging ranges but also welcomes back two of the favourites; the mighty Profi and the legendary Reference! This is conducive to Rainbow seeking to streamline its stable to conform with the four standard fiscal points of car audio; entry-level, OEM integration, mid-level or high-end.
Click on images to enlarge
Also contained within the website, now far easier to access and actually in English; is plenty of information, history, technical specifications and detailed photos of these beautiful products. Therefore why not head on over to the new website to get an eye full whilst the new paint dries. If you need information not found on the website please shoot us an email and for product pricing simply visit the Rainbow section of our webstore.
---
Many Full Retail Pricelists Updated. - 02/03/22
A plethora of latest full retail pricelists have now been uploaded to the products page. Changes to the lists include the removal of concluding ranges, the addition of new ones and price revisions all round. To view said pricelists please click here, else feel free to email us.
---
The New Helix M SIX DSP - The Revolutionary Receives A Sibling! - 14/10/21
A few months back German amplifier virtuoso Helix answered the call for a quality mid-level amplifier that was not only affordable, but also incorporated a serious processing suite and offered copious amounts of clean power. Given its rich heritage in this realm the outcome was hardly a surprise; it was obvious to all and sundry that the abilities of the modestly priced M FOUR DSP would dictate it be a game changer. Nonetheless even Helix was caught unawares as to just how popular these amplifiers would be, with the entire first production run selling out worldwide within mere weeks. Indeed, one of the only suggestions audiophiles could offer for its betterment was the addition of another two channels.
Another couple of channels you ask? Done and done.
Click on images to enlarge
Hovering around the $1299 region; the M SIX DSP is the larger sibling of its four-channel compeer. Far more than just another six-channel amplifier; it's comparatively small footprint of 50mm x 154mm x 320mm belies it's true potential as not only a serious powerhouse but also a comprehensive control centre. It offers a myriad of highly processed channels within its software suite in addition to outputting a generous 100 watts of continuous power per channel at either four or two ohm, all with exceptional ancillary specifications. It's without doubt the new M SIX DSP will set pulses amongst the competition racing, though not in a pleasant way. For further background information, full feature explanations plus a rundown of the technical specifications please visit the Helix website, else shoot us an email. Regarding availability; they're due to hit our shores mid to late November, at which point they'll be available through our webstore here.
---
Helix K 10S Subwoofer - Depthless Precision! - 07/10/21
Though renowned for it's predominantly high-end offerings, the entry-level K series of subwoofers from esteemed German designer Helix has gained traction aplenty over the last biennium. Featuring technologies and ideologies from the ranges above, the K stable really couldn't get any better; until now that is. For accompanying the existing 8", 10" and 12" K series subwoofers is the new K 10S sibling; a 10" shallow chassis driver.
Click on images to enlarge
Featuring an 84.5mm deep aerodynamically transparent basket and motor, long-throw rubber surround, robust yet natural paper sandwich cone for superior damping and minimal weight, a dual two ohm 50.8mm voice coil and superior perimeter venting system; the new K 10S is slated to be one serious contender for punters looking for a quality subsonic solution without consuming vast amounts of fiscal and dimensional resources. Individual unit price will hover around the $399 region and although not landed in Australia at present; these depthless wonders are not far away. For further information please click here, else simply shoot us an email.
---
The 'Not So Flash' Install Images Page Updated. - 06/10/21
Yes ladies and gentlemen; it's time for more random visual silliness, this time around showing exactly how not to do it! You know that saying "you can price match but you cannot install quality or experience match"? Well it's spot on - see cheap installs are exactly that and to that end a frightening proportion of our work here comes from fixing these types of installations. So click here to behold what you'll get for your cheap or free install.
---
Stinger Releases New Dash Interface Systems. - 02/09/21
Electronics authority Stinger is constantly evolving its vast stable. For whilst car manufactures are busy making their vehicles more challenging to modify, Stinger quietly goes about developing methods to overcome said challenges; such is the technical acumen of this tenacious company. If you're familiar with Stinger's website you'll indubitably know it's simply enormous, ergo we won't go into individual specifics here. Instead we invite you to visit the Stinger website to see what solutions are available for your vehicle
Click on images to enlarge
Stinger dash interface systems are a cut above the competition, finished with quality components and materials not only pertaining to the front end which you see but also those backend that're interfacing with the cars delicate electronics. The result is a safe, reliable and robust performance that carries on working without ado. If you'd like more information regarding Stinger products please email us.
---
The Top 100 Most Influential Car Audio Products. - 31/10/20
Care to take a trip down memory lane? This article was recently posted on BestCarAudio and explores the top 100 most influential car audio products of all time.
Click on images to enlarge
To read the entire article simply click here. What's scary is that between us here we've owned about half of them and have installed the vast majority of them at one stage or another.
---
Car Audio Australia
Welcome to Fhrx Studios, the car audio specialists in Australia for automotive audiophiles and experienced car enthusiasts. Our team of qualified engineers understand how crucial sound quality is to your driving experience, which is why we are committed to providing you with the best advice and assistance to help you get on the right track.
We work closely with you from the design and implementation stage right through to the tuning and overall completion, to ensure that you get the best system possible for your vehicle. With a wide range of processors, amplifiers, speakers, subwoofers, accessories and system kits to choose from, we guarantee we can cover all your car audio needs in Australia from start to finish.
We believe that every car and every customer is unique, which is why we are determined to provide a fully customised service that will help our clients find the right car audio solution in Australia for their vehicle. Send us an email on fhrxstudios@bigpond.com today to get started.
What services does Fhrx Studios provide?
Fhrx Studios is committed to providing the best advice and assistance to automotive audiophiles and experienced car enthusiasts in Australia. Our team of qualified engineers offers a fully customised service to ensure you find the best car audio system for your vehicle, tastes and budget.
Can Fhrx Studios help me design a custom car audio system for my vehicle?
Absolutely! At Fhrx Studios, we believe that every car and customer is unique, and we are determined to help you put together the perfect audio system for your vehicle. Our qualified engineers will work closely with you from the design and implementation stage right through to the tuning and overall completion.
Is there a wide range of well-known products and brands available at Fhrx Studios?
Yes. Fhrx Studios offers a range of high quality car audio products, including car head units, amplifiers, speakers, car subwoofers and much more. We carry top brands that include Helix, Focal, Zapco, Morel, Match, Kenwood, Brax, Stinger, JL Audio, ESB and BLAM, just to name a few.
Who is the target demographic for Fhrx Studios?
Fhrx Studios primarily caters to customers aged 35 to 75 years old, with backgrounds canvassing all things automotive and musical. We strive to serve those who have a clear understanding of their audio needs and preferences.
How do I get in touch with Fhrx Studios for assistance or to start a project?
You can reach Fhrx Studios by sending us an email on fhrxstudios@bigpond.com. Rest assured we are committed to providing you with the best advice and assistance to help you get on the right track with your project.
---
Brands | Locations
Top of Page